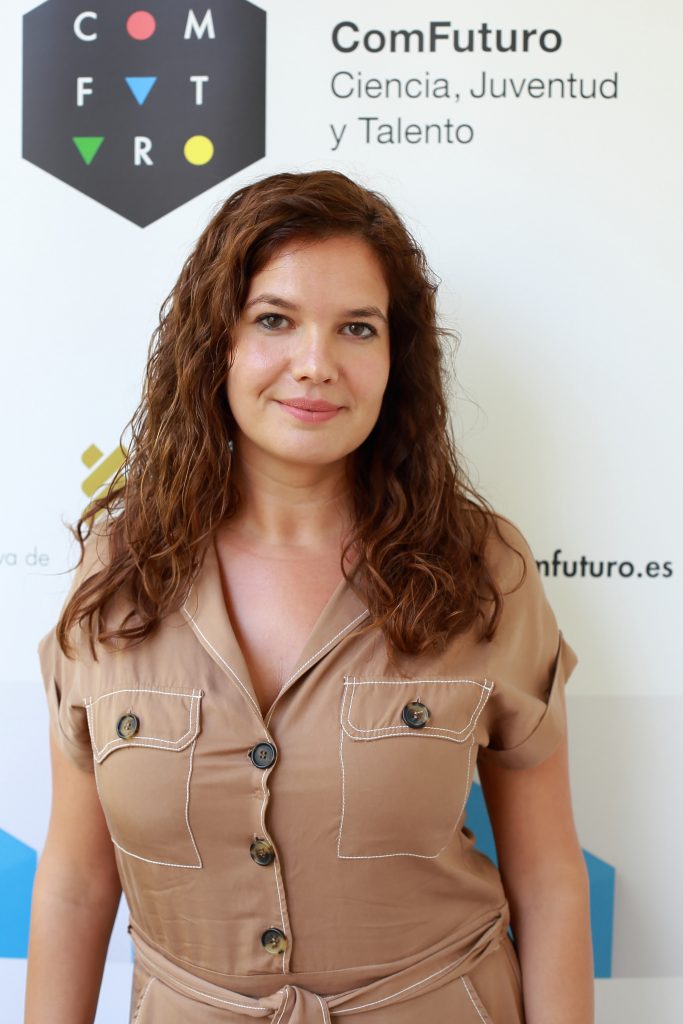 Consolación Álvarez Núñez holds a degree in Biochemistry from the University of Seville and was awarded the extraordinary end-of-degree prize and the second national prize for the best academic record.
She completed her doctorate at the Institute of Plant Biochemistry and Photosynthesis (IBVF), a joint centre of CSIC and the University of Seville, thanks to a JAE predoctoral fellowship. The research carried out during this period earned her the Extraordinary Doctorate Award.
In 2012, she joined Abengoa Bioenergía, in the project "Development of Enzymes for the Production of Second-Generation Bioethanol" and was subsequently Principal Investigator of different projects, obtaining 8 patents and directing a doctoral thesis.
In 2017, she rejoined the Institute for Plant Biochemistry and Photosynthesis in Seville and since 1 September 2018 and until 2021 she was a ComFuturo researcher in this same Institute, where she developed her project "New environmentally friendly biofertilisers for agricultural use based on plant-cyanobacteria interaction".
Project Summary
One of nature's paradoxes is that, despite the great abundance of nitrogen in the atmosphere, it is relatively unavailable to plants and, consequently, crop production is highly dependent on nitrogen fertiliser inputs. However, its massive and continuous use for more than 40 years is causing serious environmental problems. It is estimated that only 30% of the nitrogen used is assimilated by the plant, and that most of the nitrogen applied ends up contaminating aquifers, lakes and rivers.  Any method that cuts nitrogen fertiliser consumption and alleviates the nitrogen needs of crops would be not only an economic advantage, but a strategic necessity in terms of environmental preservation.
Cyanobacteria are responsible for the highest biological nitrogen fixation activity in rice fields and are capable of establishing symbiosis with plants of practically all known groups.  The chemical signals used to establish such a mutualistic relationship are probably general. The identification of these signals will open the door to the extension of these symbiosis relationships to other plants of agronomic importance.
For this purpose, the mutualistic association between nitrogen-fixing cyanobacteria and plants of agricultural importance will be studied in detail.  This project aims to create an ecological biofertiliser that stimulates the plant-cyanobacteria association, which will be tested on crops in the Guadalquivir marshes. The development of this product will represent a new agricultural development strategy in one of the regions of Spain most affected by the intensive use of agriculture and, at the same time, it will be environmentally important.
Application: Crop production is highly dependent on nitrogen fertilisers, but their massive use is causing serious environmental problems. Since cyanobacteria are responsible for most biological nitrogen fixation in rice fields, this project aims to study the molecular mechanisms of the interaction between cyanobacteria and rice in order to promote them as a natural alternative source of nitrogen for these crops. This knowledge will lead to the development of a product that will be used as a biofertiliser for the agricultural sector.
Scientific output derived from the ComFuturo EcoFertil Project
---
Scientific articles
C. Álvarez; M. Brenes-Álvarez; F.P. Molina-Heredia; V. Mariscal (2021). Early events of the endophytic symbiotic between Oryza sativa and Nostoc punctiforme involve the SYM pathway. BIORIXIV. DOI: 10.1101/2021.04.09.436957.
M. Iniesta-Pallarés; C. Álvarez; F.M. Gordillo-Cantón; C. Ramírez-Moncayo; P. Alves-Martínez; F.P. Molina-Heredia; V. Mariscal (2021). Sustaining Rice Production through Biofertilization with N2-Fixing Cyanobacteria. APPLIED SCIENCES. DOI:10.3390/app11104628
C. Álvarez; J.A. Navarro; F.P. Molina-Heredia; V. Mariscal (2020). Endophytic colonization of rice (Oryza sativa L.) by the symbiotic strain Nostoc punctiforme PCC 73102. MOLECULAR PLANT MICROBE INTERACTIONS. DOI: 10.1094/MPMI-01-20-0015-SC
C. Álvarez; C. Ramírez-Moncayo; P. Alves-Martínez; F.P. Molina-Heredia; V. Mariscal (2019). Diversity of N2-fixing cyanobacteria from Andalusian paddy fields and analysis of their potential as bioinoculants. BIOSAIA.
Works presented at conferences
M. Iniesta-Pallarés; M. Brenes-Álvarez; C. Álvarez; F.P. Molina-Heredia; V. Mariscal. Análisis del microbioma de los cultivos de arroz en las marismas del Guadalquivir. IX Reunión del Grupo Especializado de Microbiología de Plantas de la Sociedad Española de Microbiología. Online. 2021
C. Álvarez; C. Ramírez-Moncayo; J.A. Navarro; M. Hervás; M. Roncel; J.M. Ortega; F.P. Molina-Heredia; V. Mariscal. Interacción mutualista entre cianobacterias y arroz: hacia el diseño de nuevos biofertilizantes. VIII Reunión del Grupo Especializado de Microbiología de Plantas de la Sociedad Española de Microbiología. Presentación oral invitada. Osuna, Sevilla, Spain. 23/01/2019-25/01/2019
F. P. Molina-Heredia; C. Ramírez-Moncayo; C. Álvarez; J. M. Ortega; M. Roncel; M. Hervás, J. A. Navarro; V. Mariscal. Estudio filogenético de las cianobacterias fijadoras de nitrógeno atmosférico de los campos de cultivo del Bajo Guadalquivir. 41 Congreso de la Sociedad Española de Bioquímica y Biología Molecular. Poster. Santander, Spain. 11/09/2018-13/09/2018
C. Ramírez-Moncayo; C. Álvarez; P. Alves-Martínez; M. Hervás; J. A. Navarro; J. M. Ortega; M. Roncel, F.P. Molina-Heredia; V. Mariscal. Diversity of N2-fixing cyanobacteria from Andalusian paddy fields and analysis of their potencial as bioinoculants. 23rd European nitrogen cycle meeting. Poster. Alicante, Spain. 19/09/2018-21/09/2018
C. Álvarez. Diseño de nuevos biofertilizantes de uso agrícola que potencien la interacción planta-cianobacteria. Simposio Instituto de Bioquímica Vegetal y Fotosíntesis. Invited oral presentation. Sevilla, Spain. 2018