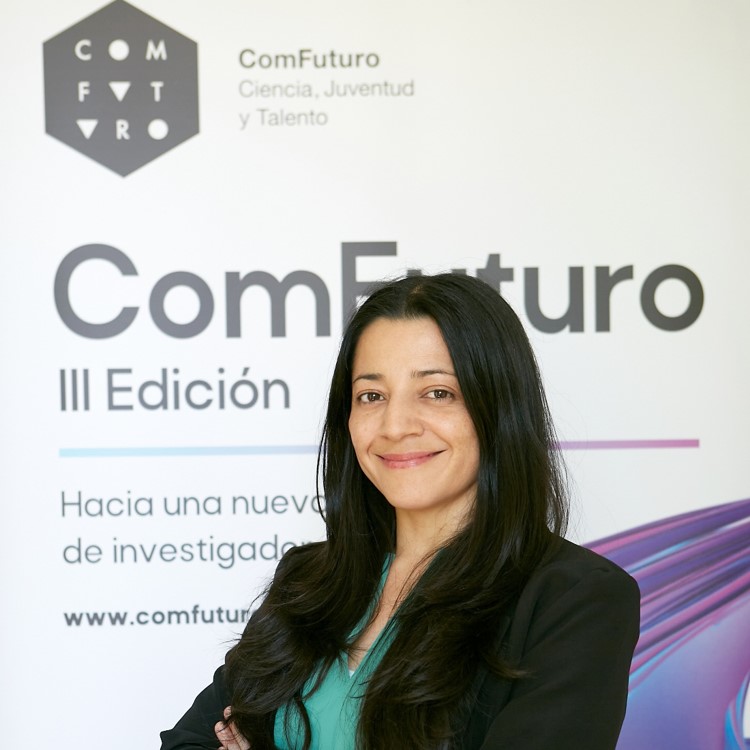 Mary Luz Uribe holds a degree in Microbiology from the University of Antioquia (Colombia), where she began her scientific career working in the 'Infection and Cancer' group.
By 2010 she moves to Spain to purse a master's degree at the University of Alicante (Spain), where she continued her PhD studies at the 'Human and Mammalian Genetic' group. Her thesis, which focused on neuromuscular rare diseases, received international mention with honours (Cum Laude) due to her international stay at LUMC (The Netherlands).
Dr Uribe did her first postdoctoral training (2017-2021) at the Weizmann Institute of Science (Israel) under the guidance of Prof. Yosef Yarden, one of the world's leading cancer researchers. There, she learned cutting-edge techniques, studying the involved pathways in breast cancer progression and the role of tumour suppressor genes.
In 2021, Mary Luz returned to Spain and joined the Salamanca Cancer Research Center to receive training in therapies for breast cancer. In 2023 she joined the Instituto de Neurociencias (IN, CSIC-UMH) as a ComFuturo fellow to carry out her project PRODECANTHER.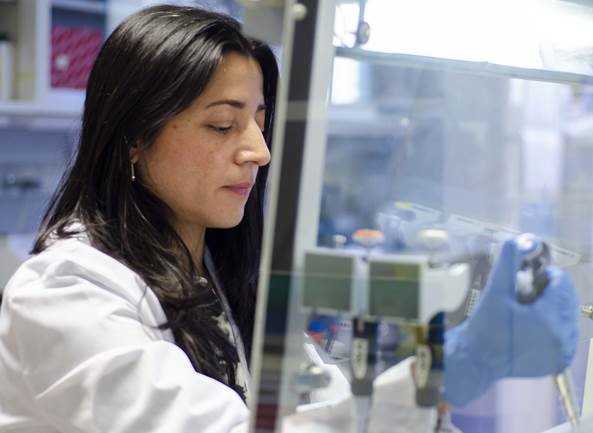 Todos los organismos vivos recurren a la eliminación de células como parte de su ciclo natural. Este proceso conocido como "muerte celular programada" es activado para mantener la salud general del organismo ya que este lo usa para deshacerse del exceso de células, de las viejas o de las defectuosas. El cáncer rompe el equilibrio y permite que células defectuosas sobrevivan, se multipliquen y formen tumores. El proyecto PRODECANTHER utilizará la mosca de la fruta como modelo animal completo, ampliamente usado para el estudio del desarrollo del cáncer, junto con innovadoras herramientas genéticas y moleculares, para comprender cómo y cuándo se activa o evade la muerte celular programada en las células iniciadoras del cáncer. Su fin último es contribuir a generar estrategias eficaces para erradicar los tumores de manera más segura, eficaz y duradera mediante la personalización de terapias capaces de estimular los programas de muerte celular del organismo en células tumorales.
All living organisms resort to the elimination of cells as part of their natural cycle. This process known as "programmed cell death" is activated to maintain the overall health of the organism as it is used by the body to get rid of excess, old or defective cells. Cancer breaks the balance and allows defective cells to survive, multiply and form tumours. The PRODECANTHER project will use the fruit fly as a complete animal model, widely used for the study of cancer development, together with innovative genetic and molecular tools, to understand how and when programmed cell death is activated or evaded in cancer-initiating cells. Its ultimate goal is to contribute to generating effective strategies to eradicate tumours more safely, efficiently and durably by personalising therapies capable of stimulating the body's cell death programmes in tumour cells.
Extended project summary:
All living organisms rely on the elimination of cells as part of their natural cycle. This process is known as "programmed cell death" (PCD), which is activated to maintain the overall health of the organism. During human development, more cells are produced than necessary, and through PCD, defective or old cells are eliminated, ensuring that only the healthiest cells form our organs and defective cells are quickly replaced without any consequences. Our body produces hundreds of thousands of new cells daily to replace those eliminated through PCD, maintaining a delicate balance between cell division and death, called homeostasis, which is vital for maintaining a healthy life and performance.
Cancer disrupts this balance to allow defective cells to survive and multiply excessively, forming tumours that can damage organs and eventually cause death. Despite considerable progress in cancer research and our understanding of how cancer cells avoid cell death, we still have limited knowledge of how cancer-initiating cells (preneoplastic cells) resist death signals from their environment and the immune system, which normally protect us from abnormal cells.
PRODECANTHER  project aims to discover new and more effective ways to activate cell death mechanisms in tumour cells to reduce or stop cancer. Innovative genetic and molecular tools will be used to determine how and when PCD is activated or evaded in preneoplastic cells. Additionally, these abnormal processes in cancer will be compared with natural cell death processes to discover new opportunities to stimulate our natural defences and design more effective and long-lasting anticancer therapies.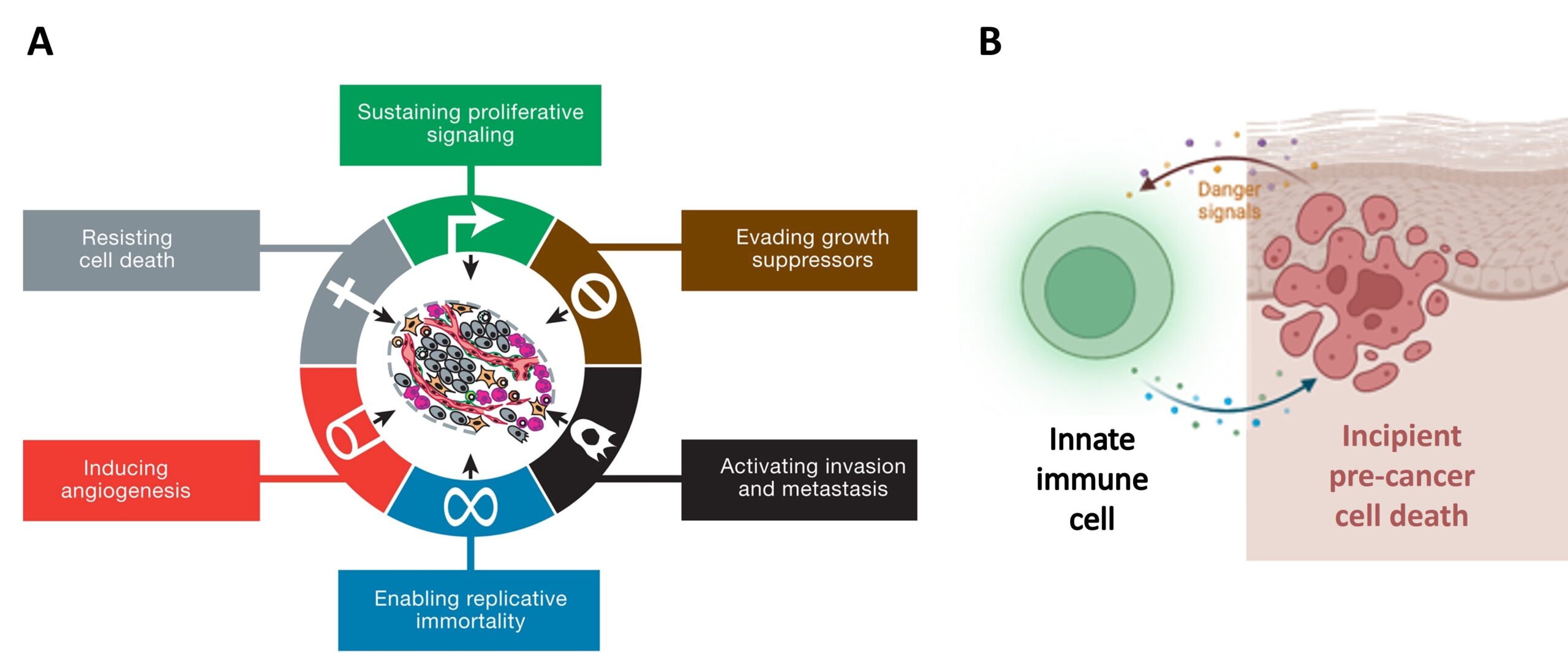 Figure. Harnessing programmed cell death for lasting cancer therapies. (A) Cancer cells acquire  several capabilities that allow them to survive and spread, including the ability to multiply rapidly, resist cell death, and invade other tissues. [1]  While scientists have made significant progress in understanding these hallmarks of cancer, there is still much to learn about how cancer cells acquire these traits. (B) Fortunately, incipient cancer cells can be detected and eliminated by the immune system, but some manage to escape this control through mechanisms that are not yet fully understood. By exploring these mechanisms and developing new therapies that stimulate the body's natural defences, we hope to find more effective and long-lasting treatments for cancer, improving the quality of life for patients and reducing healthcare costs.
[1] Hanahan D, Weinberg RA . Hallmarks of Cancer: The Next Generation. Cell. 2011.