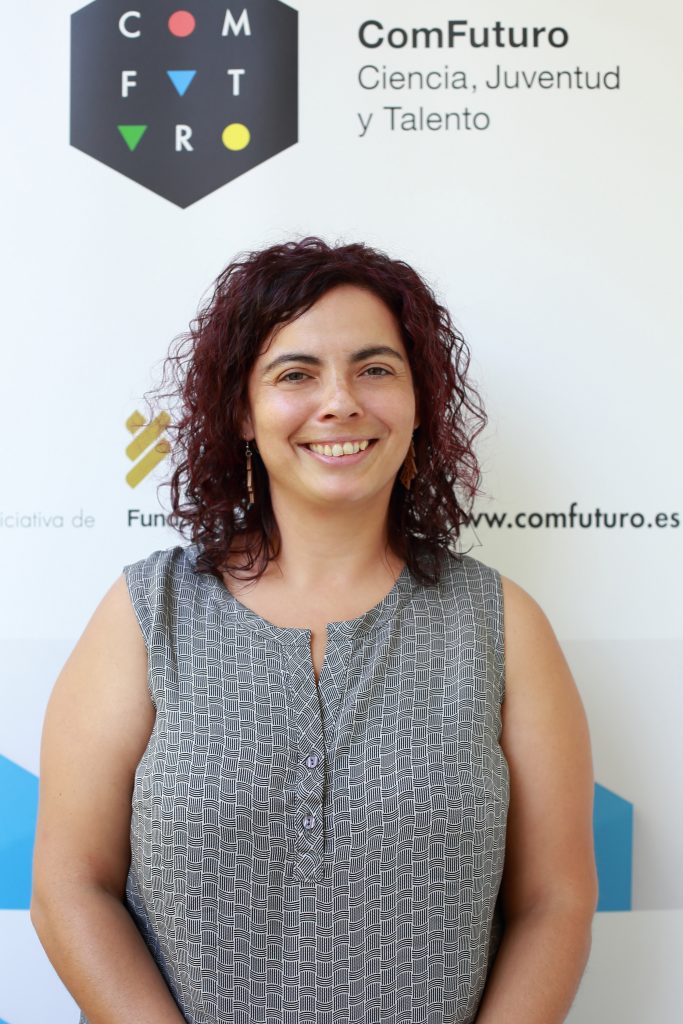 Cristina Postigo Rebollo holds a degree in Environmental Sciences (Autonomous University of Madrid, 2001) and a master's degree in "Environmental Applied Geosciences" (Eberhard Karls University, Tübingen, Germany, 2006). In 2006, she joined the Institute for Environmental Diagnosis and Water Studies (IDAEA) of the CSIC to do her doctoral thesis in the field of environmental analytical chemistry. In 2011, she received her PhD from the University of Barcelona (extraordinary doctorate award). Her post-doctoral stage included two years (2012-2014) at the U.S. Environmental Protection Agency as a Marie Curie researcher. As part of this grant, she returned to IDAEA, where she continued as a Beatriu de Pinós researcher (2015-2017). Since September 2018 and until 2021, she was as a ComFuturo researcher also in IDAEA, where she developed her ComFuturo project "Innovative approach for the detection of cytotoxic and reprotoxic substances in reclaimed and drinking water". After ComFuturo, she was awarded with a Ramón y Cajal position.
Project Summary
Reclaimed wastewater is a valuable water resource. However, in order to promote its use, as well as the social acceptance of this practice, it is necessary to guarantee its safety from a health point of view.
As part of the regeneration process, the water is disinfected to eliminate pathogenic organisms (bacteria and viruses that cause infectious diseases). During this process, disinfection by-products (DBPs) are generated. These chemical compounds, and in particular those that contain halogen elements in their structure (chlorine, bromine or iodine) can be toxic, causing negative reproductive, developmental, and even carcinogenic effects.
These types of compounds have been extensively researched in drinking water (e.g., chlorinated water). However, their formation can vary substantially in reclaimed wastewater, as it contains very different dissolved organic matter.
This project aims to develop a novel approach to detect and identify the most relevant toxic substances in reclaimed water in order to minimise their presence in it. For this purpose, DBPs formed at the outlet of wastewater reclamation plants currently in operation will be studied using an analytical approach that integrates chemical and toxicological information. (effect-directed analysis: EDA). The aim is to develop a tool to evaluate the toxic effects of the sampled waters and their different fractions with a model of human placenta cells (JEG-3) and to characterise the DBPs in them, with the ultimate goal of identifying the compounds responsible for the observed toxicity. Advanced analytical techniques based on high resolution mass spectrometry will be used for chemical characterisation. The tool, once validated, will also be applied to drinking water.
Application: The objective of this project is to develop a methodology to detect toxic substances that are generated during water disinfection, either in the wastewater regeneration process or in the drinking water treatment process, in order to minimise their presence. In particular, the knowledge generated about reclaimed wastewater will help to extend its use with health guarantees and to promote social acceptance of this process.
Scientific production derived from ComFuturo ENFOCAR Project
---
Scientific articles  
C. Postigo; R. Gil-Solsona; M.F. Herrera-Batista; P. Gago-Ferrero; N. Alygizakis, L; Ahrens; K. Wiberg (2021). A step forward in the detection of byproducts of anthropogenic organic micropollutants in chlorinated water. TRENDS IN ENVIRONMENTAL ANALYTICAL CHEMISTRY. DOI: 10.1016/j.teac.2021.e00148
C. Postigo; R. Gil-Solsona; M.F. Herrera-Batista; P. Gago-Ferrero; N. Alygizakis; L. Ahrens; K. Wiberg; E. Schymanski; H. Mohammed Taha (2021). S87 I CHLORINETPS I List of chlorination byproducts of 137 CECs and small disinfection byproducts (NORMAN-SLE-S87 0.1.0). [Data set]. ZENODO. DOI: 10.5281/zenodo.5767357
C. Postigo; S.D. Richardson (2021). Non-target screening and novel methods based on mass spectrometry detection for identification of unknown disinfection byproducts. En "Analysis, formation and toxicity of disinfection byproducts in drinking water", editado por Tarek Manasfi y Jean-Luc Boudenne. COMPREHENSIVE ANALYTICAL SERIES, Elsevier B.V. DOI: 10.1016/bs.coac.2021.01.001
C. Postigo; A. Andersson; M. Harir; D. Bastviken; M. Gonsior; P. Schmitt-Kopplin; P.Gago-Ferrero; L. Ahrens; L. Ahrens; K. Wiberg (2021). Unraveling the chemodiversity of halogenated disinfection by-products formed during drinking water treatment using target and non-target screening tools, JOURNAL OF HAZARDOUS MATERIALS. DOI: 10.1016/j.jhazmat.2020.123681
C. Postigo; P. Emiliano; F. Valero (2020). High throughput and reliable determination of 13 haloacetic acids and dalapon in water and evaluation of control strategies. ENVIRONMENTAL SCIENCE: WATER RESEARCH & TECHNOLOGY. DOI:10.1039/d0ew00296h
C. Postigo; B. Zonja. (2019). Lodinated disinfection byproducts: formation and concerns. CURRENT OPINION IN ENVIRONMENTAL SCIENCE AND HEALTH. DOI: 10.1016/j.coesh.2018.08.006
Works presented at conferences
E. Perez-Albaladejo; R. Pinteño; M. Casado; C. Postigo; C. Porte. Haloaromatic water disinfection byproducts generate oxidative stress, and induce the expression of cyp1a1 and steroidogenic genes in the human placental JEG-3 cells, and genotoxicity in A549 alveolar cells. 9th Ibero-American Congress on Contamination and Environmental Toxicology (CICTA). Oral presentation. Blumenau, Brasil. Online presentation. 29/11/2021-2/12/2021
J. Mestres; E. Perez-Albaladejo; C. Porte; C. Postigo. An LC-MS/M-based approach to evaluate steroid synthesis in JEG-3 cells. 17th Annual Workshop on Emerging High-Resolution Mass Sepctrometry (HRMS) and LC-MS/MS Applications in Environmental Analysis and Food Safety. Poster. Ottawa, Canada. Online. 14/10/2021-15/10/2021
C. Postigo; R. Gil-Solsona; M.F. Herrera-Batista; P. Gago-Ferrero; N. Alygizakis; L. Ahrens; K. Wiberg. An effective tool to discover disinfection byproducts of contaminants of emerging concern in chlorinated water. 17th Annual Workshop on Emerging High-Resolution Mass Sepctrometry (HRMS) and LCMS/MS Applications in Environmental Analysis and Food Safety. Poster. Ottawa, Canada. Online. 14/10/2021-15/10/2021
C. Postigo; R. Gil-Solsona; M.F. Herrera-Batista; P. Gago-Ferrero; N. Alygizakis; L. Ahrens; K. Wiberg. A step forward in the detection of chlorination byproducts in reclaimed water. International Conference on Non-Target Screening (ICNTS21). Poster. Erding, Germany. Online. 4/10/2021-7/10/2021
C. Postigo. Non-target HRMS approaches to characterize complex disinfection byproducts mixtures. 16th Annual Workshop on Emerging High-Resolution Mass Sepctrometry (HRMS) and LC-MS/MS Applications in Environmental Analysis and Food Safety. Invited oral presentation. Online virtual meeting. (https://lcmsms.activacongresos.com/). 15/10/2020-16/10/2020
J. Mestres-Martinez; E. Perez-Albaladejo; C. Porte; C. Postigo. Evaluation of reprotoxic effects in the model cell line JEG-3 by means of an LC-MS/MS based aproach. SETAC SciCon, the SETAC Europe 30th Annual Meeting. Poster. Online virtual meeting (https://scicon.setac.org/). 3/05/2020-7/05/2020
C. Postigo; A. Andersson; M. Harir; D. Bastviken; M. Gonsior; P. Schmitt-Kopplin; P.Gago-Ferrero; L. Ahrens; L. Ahrens; K. Wiberg. Mass spectrometry-based approaches to characterize chemodiversity of chlor(am)inated water SETAC SciCon, the SETAC Europe 30th Annual Meeting. Poster. Online virtual meeting (https://scicon.setac.org/). 3/05/2020-7/05/2020
C. Postigo; A. Andersson; M. Harir; D. Bastviken; M. Gonsior; P. Schmitt-Kopplin; P. Gago-Ferrero; L. Ahrens; L. Ahrens; K. Wiberg. Characterization of natural organic matter and disinfection by-products formed after chemical disinfection of water. CEST 2019, 16th International Conference on Environmental Science and Technology. Poster. Rhodos, Greece. 4/09/2019-7/09/2019
M. C. Aznar-Luque; E. Perez-Albaladejo; C. Porte; C. Postigo. ENFOCAR: An approach to minimize exposure to toxic pollutants of disinfected water. 11th World Congress of EWRA on Water Resources and Environment (EWRA-2019). Oral presentation. Madrid, Spain. 25/06/2019-29/06/2019
M. C. Aznar-Luque; E. Perez-Albaladejo; C. Porte; C. Postigo. Disinfection byproducts in reclaimed water: integration of high-resolution mass spectrometry and in vitro toxicity assays data to characterize toxic DBPs. 17th International Conference on Chemistry and the Environment (ICCE-2019). Oral presentation. Thessaloniki, Greece. 16/06/2019-20/06/2019
C. Postigo; A. Andersson; M. Harir; D. Bastviken; M. Gonsior; P. Schmitt-Kopplin; P. Gago-Ferrero; L. Ahrens; L. Ahrens; K. Wiberg. Application of mass spectrometry-based approaches to characterize changes in water composition after chlor(am) ination. 17th International Conference on Chemistry and the Environment (ICCE-2019). Poster. Thessaloniki, Greece. 16/06/2019-20/06/2019
M. C. Aznar-Luque; E. Perez-Albaladejo; C. Porte; C. Postigo. Mass spectrometry in combination with in vitro bioassays: a tool for minimizing the exposure to toxic disinfection byproducts. SETAC Europe 29th Annual Meeting: One Environment. One Health. Sustainable societies. Poster. Helsinki, Finland. 26/05/2019-30/05/2019
C. Postigo; A. Andersson; M. Harir; D. Bastviken; M. Gonsior; P. Schmitt-Kopplin; P. Gago-Ferrero; L. Ahrens; L. Ahrens; K. Wiberg. Mass spectrometry-based analytical approaches to evaluate disinfection byproducts in chemically disinfected water products. SETAC Europe 29th Anual Meeting: One Environment. One Health. Sustainable societies. Poster. Helsinki, Finland. 26/05/2019-30/05/2019