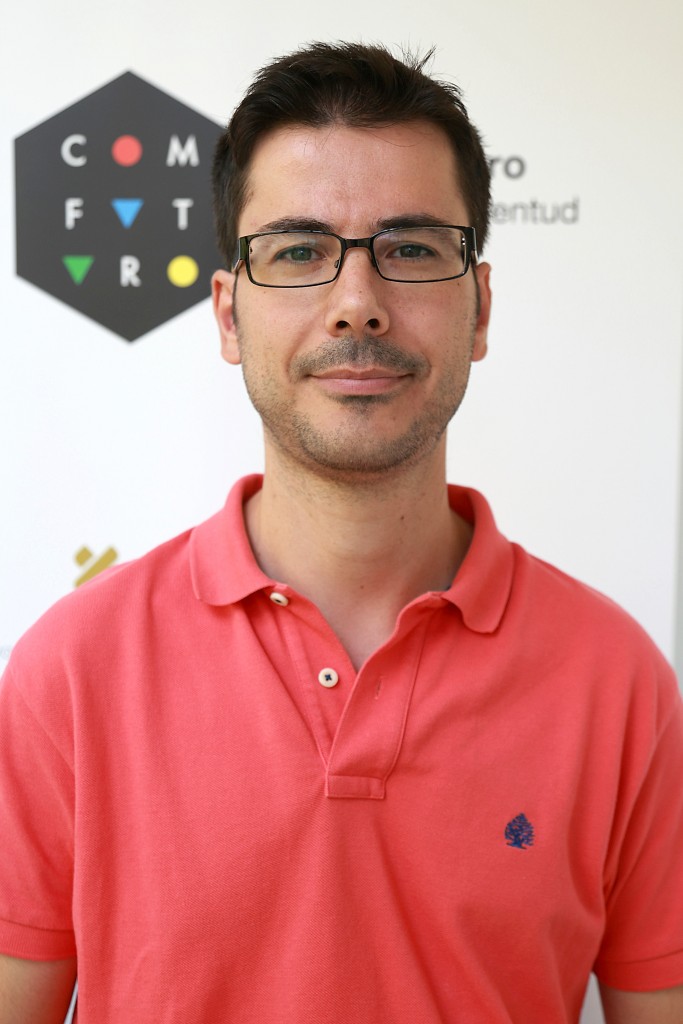 Modesto Redrejo Rodríguez (Mérida, 1979) has a degree in Biology from the University of Extremadura, where he began to enjoy his stay in a laboratory during the completion of his thesis in the Department of Biochemistry. He was able to fulfil this vocation and continued his career as a researcher at the Centre for Molecular Biology "Severo Ochoa" (CBM, CSIC-UAM), where he completed his doctoral thesis on the DNA repair mechanisms of the African Swine Fever Virus. He continued to work on DNA repair at the Institut Gustave Roussy (France), thanks to a contract from the French foundation for Cancer Research (ARC). Upon his return to Spain, he joined the laboratory of Prof. Margarita Salas, where he has worked on the biological cycle and DNA replication of bacteriophages. ComFuturo Researcher (I edition) at the CBM, where he developed his project "New fusion DNA polymerases with biotechnological applications".
Project Summary
The development of whole genome amplification techniques has been mainly based on isothermal amplification by band displacement (MDA), carried out by the DNA polymerase of bacteriophage Φ29 (Φ29pol). This is a non-directed process that uses random sequence hexamers and allows the generation of very long copy molecules, in which the entire genome is amplified homogeneously and with a very high degree of fidelity. Therefore, it is a very useful technique for generating starting material for sequencing whole exomes and genomes, analysing population polymorphisms, studying unculturable microorganisms and viruses, or describing metagenomes. In recent years, protein engineering has been successfully applied to improve the properties of DNA polymerases, including Φ29pol, which can have its DNA amplification capacity greatly enhanced by the fusion of DNA-binding domains.
However, the use of Φ29pol for MDA still has limitations in terms of experimental conditions (temperature, inhibitors, etc.) and mould quality (DNA base damage). To minimise these limitations and universalise the current performance of MDA technology, I have designed a work plan organised as a funnel-like innovation process, starting from an initial screening of several polymerases, both naturally occurring and new variants of Φ29pol generated by protein engineering. These enzymes will be prioritised and selected to generate new DNA polymerases designed in the laboratory and a final round of detailed analysis of their capabilities. In the final phase, versatile and robust protocols will be designed to evaluate the marketability of the polymerase(s) that pass all our experimental filters in terms of faithful DNA amplification capacity under different conditions and new functionalities.
Application:
The ultimate goal is to develop new tools that can amplify genetic material in an increasingly efficient way to meet the new challenges faced by genomic sequencing technologies. These will be useful in fields as diverse as archaeology, forensic medicine, personalised medicine, etc.
Scientific production derived from the ComFuturo Project
---
Scientific articles
M. Redrejo-Rodríguez; C.D. Ordóñez; M. Berjón-Otero; J. Moreno-González; C. Aparicio-Maldonado; P. Forterre; M. Salas; M. Krupovic (2017). 

Primer-Independent DNA Synthesis by Family B DNA Polymerase from Self-Replicating Mobile Genetic Elements.

 CELL REPORTS. 

DOI: 10.1016/j.celrep.2017.10.039
M. Berjón-Otero; A. Lechuga; J. Mehla, P. Uetz; M. Salas; 

Redrejo-Rodríguez

 (2017). 

Bam35 tectivirus intraviral interaction map unveils new function and localization of phage ORFan proteins. 

JOURNAL OF VIROLOGY. 

DOI: 10.1128/JVI.00870-17
M. Salas; I. Holguera; 

M. Redrejo-Rodríguez

; M. de Vega (2016). 

DNA-Binding Proteins Essential for Protein-Primed Bacteriophage Φ29 DNA Replication. 

FRONTIERS IN MOLECULAR BIOSCIENCES. 

DOI: 10.3389/FMOLB.2016.00037
M. Berjon-Otero; L. Villar; M. Salas Falgueras; 

M. Redrejo-Rodriguez 

(2016). 

Disclossing the early steps of protein-primed genome replication of Grampositive tectivirus Bam35

. NUCLEIC ACIDS RESEARCH. 

DOI: 10.1093/nar/gkw673
Works presented at conferences
M. Redrejo-Rodriguez

; C.D. Ordóñez; M. Berjon-Otero; J. Moreno-Gonzalez; C. Aparicio-Maldonado; P. Forterre; M. Salas; M. Krupovic. 

Primer-free DNA replication by a new clade of family B DNA polymerases. 

5th DNA polymerases meeting. 

Oral presentation. 

Leiden, The Netherlands. 23/09/2018-26/09/2018
C.D. Ordóñez; M. Salas; 

M. Redrejo-Rodriguez

. 

Engineered Bam35 DNA polymerase with enhanced DNA amplification capacity as a tool for isothermal amplification of damaged DNA. 

5th DNA polymerases meeting 

Poster. 

Leiden, The Netherlands. 23/09/2018-26/09/2018
M. Berjon-Otero; A. Lechuga; J. Mehla; P. Uetz; M. Salas; 

M. Redrejo-Rodriguez

. 

Bam35 tectivirus protein interactome as an efficient tool to disclose new functions of viral ORFans

. EMBO Virus of Microbes. 

Poster. 

Wroclaw, Poland. 9/07/2018-13/07/2018
A. Lechuga; M. Salas; 

M. Redrejo-Rodríguez

. 

Bam35 P2 is a single-stranded DNA binding protein that stimulates processive DNA synthesis

. EMBO Virus of Microbes. 

Poster. 

Wroclaw, Poland. 9/07/2018-13/07/2018
J. Moreno-González; S. Flament; M. Blanco; J. Blanco; M. Salas; 

M. Redrejo-Rodrigu

ez. 

Pipolin occurrence and excision mechanism among Escherichia coli strains from animal origin. 

Genomic Editing in Bacteria workshop. 

Poster. 

National Centre for Biotechnology. Madrid, Spain. 13/04/2018
M. Redrejo-Rodriguez

. 

Caracterización molecular del tectivirus Bam35: mecanismo de replicacion, interactoma y aplicaciones biotecnologicas. 

Reunión de la Red Española de Bacteriófagos (Fagoma II). 

Invited oral presentation. 

Mallorca. Spain. 26/10/2017-27/10/2017
M. Berjón-Otero; A. Lechuga; J. Mehla; P. Uetz; M. Salas; 

M. Redrejo Rodríguez.

 

New insights into the replication and structure of bacteriophage Bam35

. Centennial celebration of bacteriophage research. 

Poster.

 Paris, France. 24/04/2017-26/04/2017
M. 

Redrejo-Rodriguez

. 

A new clade of B-family DNA polymerases encoded by Polbactins, a novel group of widespread prokaryotic genetic mobile elements. 

Seminario Centro Biologia Molecular. Madrid, Spain. 14/01/2016
M. Redrejo Rodríguez

. 

A new Branch of B-family DNA polymerases. 

2015 Consolider Genomic Instability. 

Oral presentation. 

Torremolinos, Andalusia, Spain. 09/11/2015 – 10/11/2015
Registered patent applications
M. Salas Falgueras; M. Redrejo Rodríguez; M. Krupovic; P. Forterre. Primer-independent DNA polymerases and their use for DNA synthesis. European Application Patent (solicitud conjunta CSIC-Pasteur). Application number: P201731236. See Brochure